Help
Ordering
Shipping
Invoice
Order Payment
Products and Pricing
Returns and Cancellations
Miscellaneous
Ordering
Is there a minimum order?
There is no minimum order but every order does include a $3.95 handling fee plus shipping.
How can I change my order after it's been placed?
Please call us immediately at 1-800-284-7299 for any order alterations.
Do I need to provide a tax ID?
At this time only Nebraska residents must provide a tax ID to receive wholesale discounts. Those who do not will be charged retail price and sales tax.
I can't find the item I'm looking for on your website.
At this time not all products are listed. You can add additional products in the comments section at checkout or contact us and request a product addition.
What if you don't have everything on my order?
Unavailable items are usually backordered and will be marked on your invoice as such. When they become available you'll be contacted. You are not charged for any items ordered that are not shipped.
How do I order for a trade show pickup?
For orders placed online select the appropriate show pickup option under Delivery Method. Any show special discounts will be applied after checkout during processing. (Payment is not charged until the order is fully processed.)
For orders placed on the toll-free order line simply inform the agent which show you will be picking the order up at.
Shipping
How much is shipping?
Shipping cost is available during checkout for orders that are:
Shipping in the contiguous United States
Under 60 lbs. in weight
Under $400 in value
Have full shipping information for products
Please contact us for a quote for all other orders or if shipping cost is not provided during checkout.
Why are your shipping costs different from other sites?
Glaser Ceramics operates as a wholesaler. We're able to offer significant discounts because we don't hide shipping costs in our products like retail websites do. We also don't have a minimum order or require a Tax ID like many other wholesalers. This provides major savings to large buyers such as paint-your-own-pottery studios, schools, hobbyist groups, and professional artists but can leave customers used to retail websites surprised when they pay the true shipping cost.
Do you offer free shipping?
No, but free pick-up is available in-store and at any of the ceramic shows we attend.
When will my order ship?
We ship Monday through Friday with most orders being processed in two business days or less. During cold weather months, orders made late in the week with freezable items in them (such as acrylics) may be delayed until the following week to protect against damage.
How long will it take my package to arrive?
Transit time depends on your location and shipping method. FedEx estimates the following shipping times for standard ground: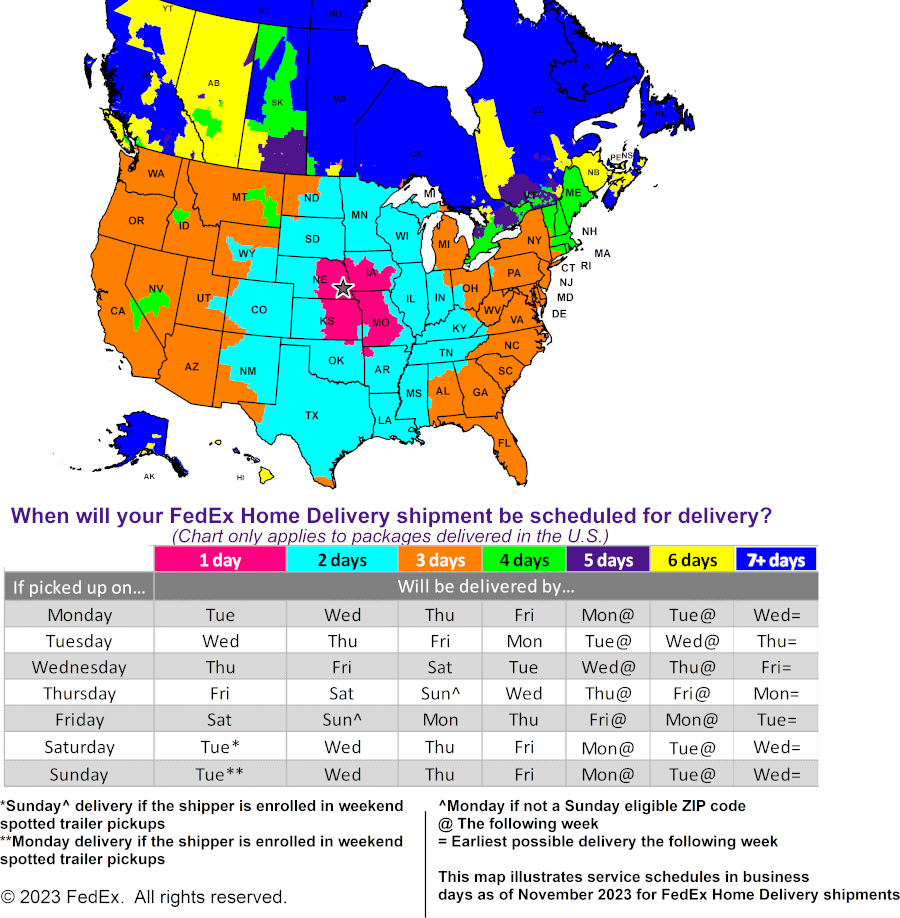 Can you ship to a P.O. Box?
Unfortunately, we're unable to ship to P.O. boxes.
My package hasn't arrived.
Please allow up to 7 business days for the arrival of your order. If your hasn't arrived by then please contact us at 1-800-284-7299 for your order status.
Tracking information is also available on the bottom of PDF invoices. You will automatically receive a copy by email if you placed your order online or opted-in during a phone order.
What packing materials do you use?
As part of our commitment to environmental sustainability, Glaser Ceramics reuses boxes and packing materials whenever possible. These items are locally sourced from neighboring businesses, organizations, and individuals that are dedicated to reducing waste and prolonging the useful life of things.
While reused boxes might not have the sleek finish of custom packaging, every 150 cardboard boxes reused will save one treesource. As an added bonus, shipping costs are reduced.
Where necessary, we use 100% recyclable FedEx branded packaging.
How do dropshipments work?
Dropshipments are orders shipped directly from the manufacturer to your door. They have the advantage of being cheaper than special ordering a product and faster than waiting for a scheduled supply shipment.
When a product is dropshipped you will be charged the amount of the item plus a deposit on the estimated shipping cost (usually 25% the retail cost or $15.00, whichever is more). We then instruct the manufacturer to make and ship the item. Once invoicing from the manufacturer is received you will either be charged the outstanding balance on the shipping due or receive a refund to your credit card for any overage. An updated invoice sent by email and/or mail.
If you ordered the mold online and received a shipping quote, the deposit will be skipped. The cost on the invoice will be the full and final charge.
Can you ship Parcel Post (USPS)?
No. Parcel Post does not offer required order tracking and insurance.
Can you ship Priority Mail (USPS)?
Priority Mail is not a standard offering within the continental United States because of large order processing time. FedEx Ground is similar in cost to Priority Mail for many orders. Our shipping department may send certain orders (such as catalogs) by Flat Rate Priority Mail at their discretion. Qualifying items will fit within a flat rate envelope or small box with packing material and must not be susceptible to bend, crush, machinery jam, or freeze damage.
Do you ship COD?
We do not accept CODs.
Can I pick up my order from your warehouse?
Yes. Pickup is available during regular store hours (Monday through Friday, 10:00 AM to 5:30 PM central). Make sure to specify a pickup date in the comments field when ordering online. Please allow 48 hours for processing. In-store pickup is free but will still incur a handling fee.
Can I pick up my order from a show?
Yes. You can pick up your order for free at any of the trade shows Glaser Ceramics attends. Simply select the show you'll be attending in the "Delivery Method" area of checkout or order by phone at 1-800-284-7299. Shows are usually listed in the online checkout area and event calendar approximately 90 days before the event.
For best results please place your show order as early as possible. This helps ensure we can have all your products available and that you don't miss the cut off deadline which may be several days before the event.
Heavy and/or bulky items such as clay, slip, and large equipment requires special consideration for truck weight and space. Please contact us to see if they qualify for show pickup.
Do you ship to Puerto Rico?
Shipping to Puerto Rico has resumed as of November 15, 2021.
Do you ship internationally?
Yes. We ship standard orders using FedEx International and large orders by freight.
How much is international shipping?
Rates vary by country and address. Small orders start at $35.00 to $60.00. Local duties or taxes may also apply.
To receive a shipping quote please contact us with a shipping address and a list of the supplies you're interested in purchasing (or printout of your cart).
Can you declare my international order as gift/no value on the customs forms?
No. Orders are shipped as merchandise with full declared value. Marking a shipment as gift/no value may cause an order to be delayed for inspection and liable for the original duties and punitive costs (please see your applicable import regulations).
An item is missing/damaged from my order.
On very rare occasions, a package may receive damage in transit or have a missing product. Please reach out to customer support through our contact form or by phone at 1-800-284-7299 to have the issue promptly addressed. Make sure to have a copy of your invoice along with the order number and date (located at the top of your invoice).
Pictures may be required for damaged products. Please retain packaging as FedEx may require an inspection.
For missing product, please ensure the item was not out-of-stock (your invoice will be marked as shipped 0, charged 0.00) or noted on your invoice as dropshipped from the manufacturer.
Claims may be made up to 45 days from the invoice date. We reserve the right to issue a refund in lieu of replacement.
Invoice
I've received my order but I don't see my invoice.
On orders originating from Glaser Ceramics, your invoice will be enclosed in a clear shipping pouch on the outside of the box. Small orders may occasionally have the invoice enclosed inside the box. On dropshipments, your invoice will be sent by mail.
You will also receive an electronic invoice by email if you placed your order online or gave your email address to a sales agent.
Not all the prices on my invoice match the catalog.
All prices in the catalog represent the most accurate available at the time of printing but are subject to change without notice. We always attempt to keep our prices as low as possible but from time to time must raise them on select products. For the most current price for an item please consult the website or contact us for a quote.
I've placed an online order but haven't received an email order confirmation.
Order confirmation emails are sometimes erroneously marked as spam by some systems. Please add as a trusted email to receive invoices and notifications. For registered users, order history is also located in your account under "View your order history".
If you are still unable to locate your order confirmation contact us at 1-800-284-7299 or through our contact form and an agent will be happy to assist. (Earthlink users: If you've activated Suspect Email Blocking you must add the above address to your address book to receive emails from Glaser Ceramics. Suspect Email Blocking uses a challenge-response method our automated invoice system can not complete.)
Payment
Do you take credit/debit cards?
Yes. We accept Visa, Discover, and MasterCard.
Do you take American Express?
We don't accept American Express.
Why was my credit/debit card declined?
A credit/debit card may be declined for a number of reasons:
There was an error with the credit card expiration date or CVV number
You've reached your daily transaction limit, either through a combination of purchases or because the order total exceeds it
You're located outside the United States and your credit card is not authorized for international use
The credit card issuer has flagged the transaction as unusual activity
The credit card number is invalid
Insufficient funds
For more information on why the transaction was declined please contact the issuing financial institution.
Do you accept PayPal?
We don't accept PayPal at this time.
Do you accept checks?
Yes. Orders may be prepaid by check. An agent will contact you with an order total. Your package will be shipped when we receive and have processed the payment.
Do you accept purchase orders from public institutions?
Yes. Institution letterhead including the PO number must be included with the order. For more information contact us at 1-800-284-7299.
I canceled my order. Will you be refunding my credit or debit card?
Please keep in mind we don't charge for standard orders until they ship; if you canceled your order before it shipped there will be no charges to refund. We also don't charge for non-shipped or backordered items.
If your credit card was charged, a refund will be issued within 5 business days.
Products and Pricing
What discounts do you offer?
Most products have quantity discounting. The more you buy the better your unit price will be. When browsing click on the product name or description for full discount.
Can I get a better discount?
We may be able to provide additional discounts on large bulk orders. Please call us and we'd be happy to discuss options.
What glaze and stain brands do you carry?
We carry Duncan, Mayco, Doc Holliday, Dona's Hues, Fashenhues, Kimple, and Colors For Earth.
Which lighting kit should I use for my ceramic tree?
The correct lighting kit will depend on the size and make of the tree. Generally speaking:
Do you carry Gare products?
No. For a list of their distributors please visit Gare.com.
Are Hanovia products available?
Hanovia products are not longer available. We recommend Duncan overglazes or Sara lusters in our lusters section as substitutions where applicable.
Do you carry decals?
Yes, along with being the home of Virma decals we're a distributor for Instar and TBR.
Returns
What is your return policy?
A Return Merchandise Authorization (RMA) may be issued up to 45 days from the invoice date for orders shipped within the contiguous United States. An RMA can be initiated through our contact form or by phone 1-800-284-7299. All returns must have an RMA issued. Perishable items such as glazes, stains, and lusters do not qualify for return with the exception of errors or product defect.
Returns due to our error or product defect will receive full credit. RMAs due to customer error are subject to a 20% restocking fee. Glaser Ceramics Inc. reserves the right to decline issuing an RMA at any time. Special orders and dropshipments do not qualify for return unless otherwise noted.
Upon successful inspection of the returned item(s) the appropriate refund or credit will be issued. An item may fail inspection if it is damaged, opened, not as described, or otherwise determined to be in poor condition.
How long is an Return Merchandise Authorization (RMA) valid for?
An RMA is valid up to 30 days from the issue date.
Can I return an item for an exchange?
We're no longer able to offer exchanges for shipped orders. Please follow the Return Merchandise Authorization (RMA) process to receive a refund and place a new order for the item or items you wish to receive instead.
Who pays for return shipping?
Return cost is the responsibility of the customer with the exception of errors or defects. It is the responsibility of the customer to ensure returned items arrive in good condition. Using a shipping method which offers package tracking is recommended.
What is the shipping address for returns?
All RMAs should be addressed:
Attn: RMA #<RMA NUMBER>
Glaser Ceramics Inc.
2325 Kimarra Place
Lincoln, NE 68521
What is your special order/dropship restock fee?
Special orders and dropshipments which have been processed will receive a 15% or $10.00 restock fee (whichever is higher) on cancellation. Glaser Ceramics will make a best effort to cancel the order with the manufacturer but this may not be possible if it has already gone into production.
Miscellaneous
Are you open to the public?
Yes. Store hours are Monday through Friday, 10:00 AM to 5:30 PM Central (-5 UTC). We are located at:
Glaser Ceramics Inc.
2325 Kimarra Place
Lincoln, Nebraska 68521
Can I get a catalog?
Our 2018-2019 catalog is available for purchase (free with an order of $200.00 or more) or free digital download.
Where can I get SDS/MSDS safety data sheets?
They can be downloaded at the Mayco SDS and Duncan SDS pages. Additional safety data sheets are available upon request.
Would you be willing to take/purchase my molds?
We are not looking to expand our inventory at this time. Additionally, we only deal with new, never-poured molds.
Are you on SAM/DUNS?
Not at this time. Orders may still be placed under standard terms and conditions.